Northcliff Gap Guest House

Accommodation In Northcliff, Johannesburg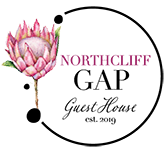 Northcliff Gap is a superb property situated in an affluent suburb of Northcliff in Johannesburg. Situated at the top of Northcliff, the property boasts the best of Joburg sunsets! The house itself is uniquely and tastefully designed and can be both comfortable for a family trip as well as for small-scale corporate functions and business trips.
With breathtaking vistas this four bedroom property with an infinity pool has a way of restoring peace in the midst of the busy city.
This property is let out on the self-catering basis and can comfortably accommodate up to 8 guests in its 4 bedrooms. The fully-stocked open-plan kitchen and dining area are very light and spacious and can easily be used for meal times as well as meetings. The dining area then opens onto a court-yard-style patio with the infinity pool – perfect set-up to enjoy a beautiful sunset while your pizza is baking in the pizza oven.
The property is situated at the top of Northcliff with easy routes both towards Linden and Melville as well as Cresta/Berario areas and less than 10min travel time to the N1.
Click Here For airbnb Reviews